发信人: pathdream (求包养买奔驰), 信区: PDA
标 题: Mini M8S II 闪亮登场 s905x $34 review
发信站: BBS 未名空间站 (Wed Mar 16 22:59:38 2016, 美东)



老大盒子推荐很久了 改换个玩法了 很多帖子都提了 现在开始推荐一个实惠大碗的电
视盒 装了app 改dns 大家其实差别不大


Mini M8S II 4K Media PC With Android 6和最新米盒同芯片 比最新米盒配置好 有有线
Another Amlogic 4K Android media player, this one however, is the enhanced
version and has the new S905X SoC in it which now supports video decoding
VP9-10 Profile-2 up to [email protected] & H.265 HEVC [email protected] up to [email protected]
which isn't a bad feat considering this little media PC is under $40.

It runs Android 6.0 has 2GB of RAM and a 8GB ROM. Not a lot of storage but
you do have USB ports to add hard drives, a MicroSD slot for your media
collection etc. Connectivity you have BT 4.0, Wireless N and a 100Mbit LAN
port. There is also a remote included in the box.


如何看中文电视
http://www.mitbbs.com/article_t/PDA/32872523.html

review:

Amlogic S905X powered TV boxes have now hit the market, and compared to
existing Amlogic S905 devices add VP9, and provided your TV can handle it,
HDR (High Dynamic Range) support. GearBest sent me one of the cheapest S905X
TV Box with Mini M8S II, and in the first part of the review, I'll take
some picture of the device, and tear it down, while the second part will be
posted later, and focus on testing the firmware.

MINI M8S II Unboxing
The package was slightly damaged, but nothing to bad. The top reads "Mini
TV Box" with some icons describing the main feaures like 4K & H.265/HEVC
support, WiFi, and so on.
MINI_TV_Box_Package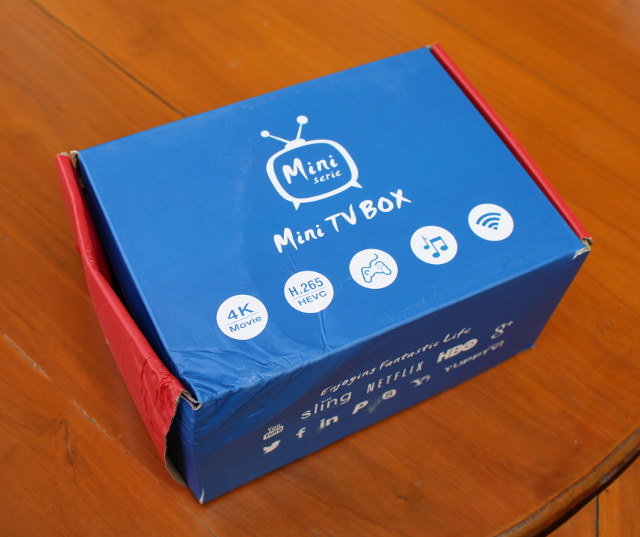 I've recently realized that logos and trademarks may cause problems with
customs in some countries, and the package does have several potentially
problematic trademarks like HBO and Netflix, as well as logos for Twitter,
Facebook, Yahoo…. In most cases, it should not be an issue, but it's
something to have in mind, especially if you order several in one order.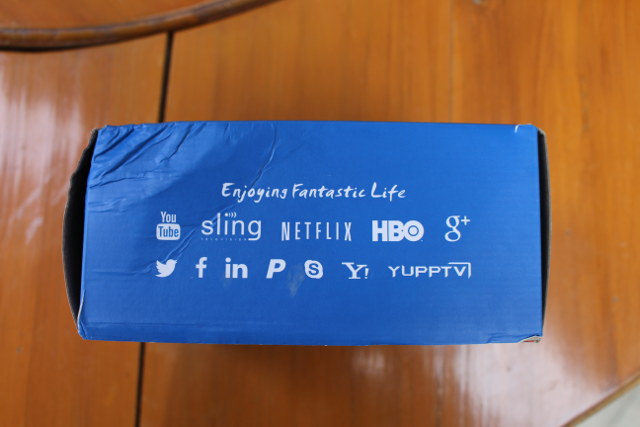 The TV box ships with a 5V/2A power supply, a HDMI cable, a user's manual,
and an IR remote control taking two AAA batteries.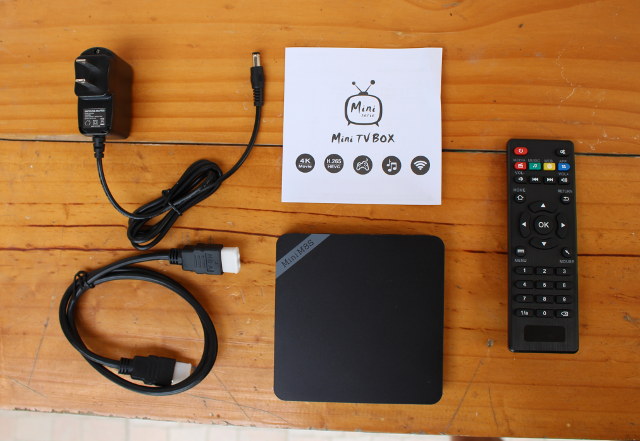 The device is rather thin (1.75 cm), and one side features a microSD slot,
and USB 2.0 port, while the rear panel comes with optical S/PDIF output, an
Ethernet port, HDMI 2.0 output, another USB 2.0 port, and the DC jack.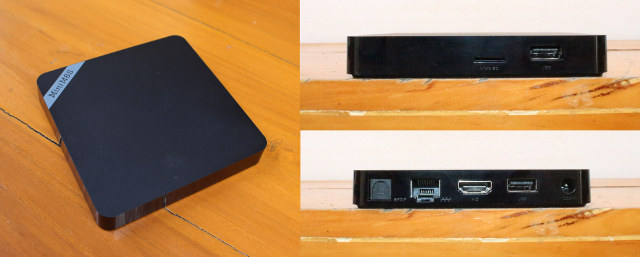 You can watch the unboxing video if that's your thing…



MINI M8S II Teardown
The two pieces of the case are held together with plastic clips, so you'll
need some sharp plastic tool to open the case.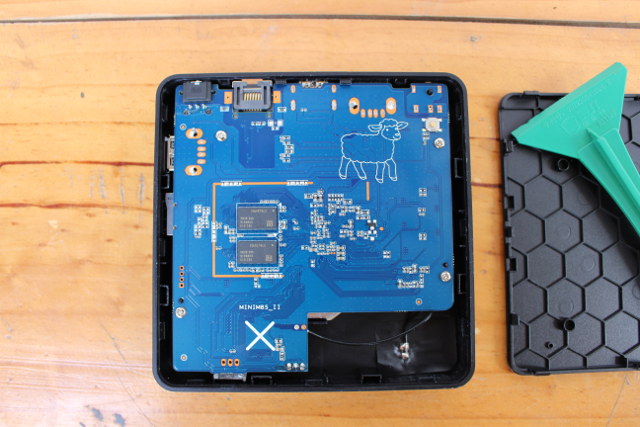 The bottom of the board have two RAM chips, the recovery button (top right),
and some silkscreen showing he name of the board: MINIM8S_II. Let's loosen
four screen to take out of the board.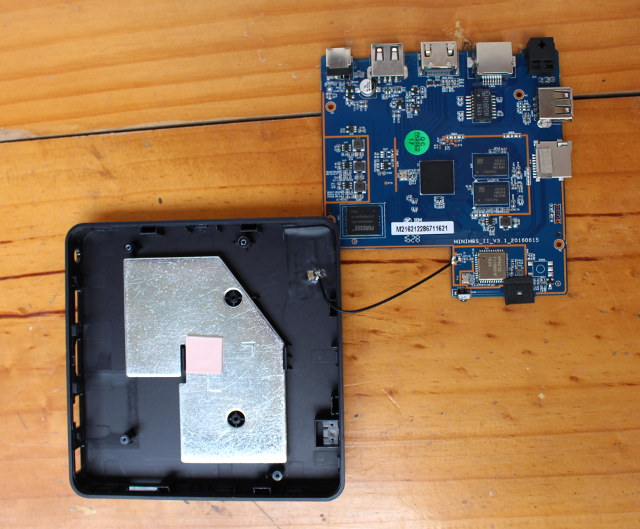 MINI_M8S_II_Heatsink
Cooling is achieving with a metal plate connected to Amlogic S905X processor
via a thermal pad.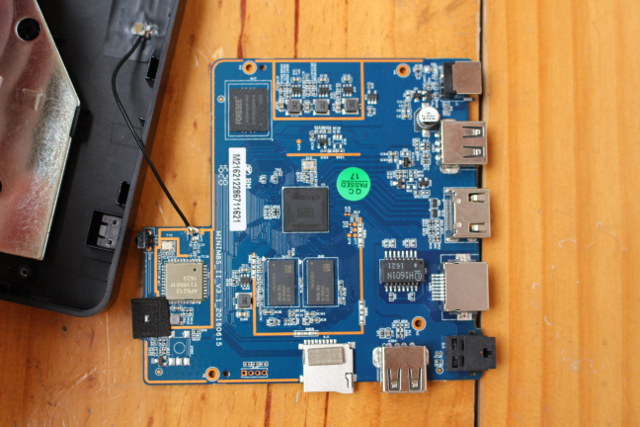 If we check out the board a little closer, we can see Amlogic S905X
processor, two more Samsung K4B4G1646E BCMA DDR3 SDRAM chips bringing the
total to 2GB RAM, and an 8GB FORESEE NCEMASD9-08G eMMC flash. Wifi and
Bluetooth connectivity is achieved through Ampak AP6212 module, and Ethernet
connectivity using S905X' built-in 10/100M PHY and an external H1601N
magnetic transformer. The serial console can probably be accessed through
the 4-pin found on the right of the micro SD card.

I did disconnect the WiFI antenna when trying to reassemble the device, so I
'll have some soldering to do…















--
※ 修改:·pathdream 於 Dec 18 22:32:40 2016 修改本文·[FROM: 98.]
※ 来源:·WWW 未名空间站 网址:mitbbs.com 移动:在应用商店搜索未名空间·[FROM: 74.]